Arcangelo's Reasons to Visit Sulmona
Sulmona is the jewel in the crown of the Valle Peligna, its rich mix of culinary, cultural, historical and artistic notes traverse time, making it a a wonderful base to explore Abruzzo.
Colourful sugar almoned confetti arrangements sit alongside side the town's Roman aqueduct and all shades of  pretty rose custard and custard  baroque palazzos along the cobbled streets. This is Italy's accepted home of sublime confetti and it is from here that Harry and Megan sourced their wedding favors.
A wealthy and opulent merchant city that had its own mint, its first gentrification came from the Romans who made it a 'municipum' and afterwards by Emperor Federick II in the Middle Ages who gave it the upgraded title of 'giustizierato', 'the most important town of the region'.
Our local guide Arcangelo's lists his favourite things to see, do and try if you're visiting Sulmona and its neighbours over the year!  If you want an easy way to visit don't forget to join one of our group or private tours over the summer
1. Confetti
For those with a sweet-tooth request a tour around any of Sulmona's famous confetti factories. Enjoy tasting a sweet that is gluten free, these sugared almonds treats date back to the fifteeth century and were so popular that they even replaced flowers in local churches as a long lasting flower arrangements.
2. Sulmona Market
Take a visit on Wednesday and Saturday to Sulmona Market in airy Piazza Garabaldi at what is regarded as one of Abruzzo's best markets. Local farming families continue to bring their delicious produce to sell alongside the best salami, cheeses, fishmongers and of course porchetta vans.


3. The Sulmona Red Garlic Fayre
Sulmona's famous Red Garlic is considered by many chefs one of the best in Italy, and is so good that is has its own festival devoted to it. It is traditionally held the second weekend in July just outside the town in Campo de Fano. Each evening there is a heady mix of superb food stalls,street food, talks by cooks and some great local music. It continues to grow each year as one of the most important in the Valle Peligna area with about 1500 people attending each night!
4. The Running Madonna
After Easter Sunday Mass Sulmona's most famous religious spectacle packs crowds into the Piazza Garibaldi. A statue of the Madonna is carried in full mourning clothes across the piazza, when at the fountains she sees a figure of the 'risen' Christ and throws off her cloak to reveal her green springtime clothes that denote new life. It's very quick, beautiful with white doves that are released but explosive – at the end from the firecrackers are lit to celebrate. You can accompany the procession afterwards to S. Maria della Tomba.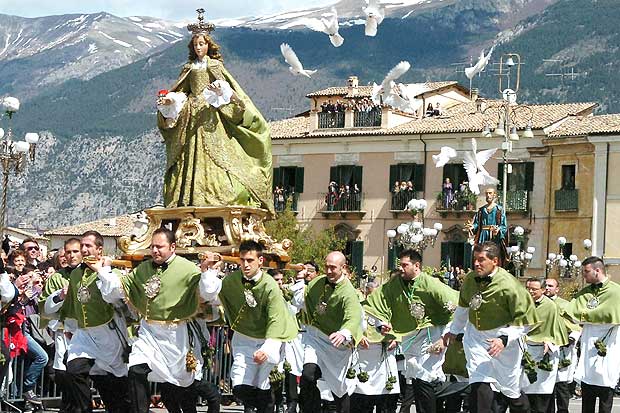 5. Chains & Guarded Gates
Despite much of Sulmona being lost in 1706 through an earthquake and rebuilt, on street corners look out for the now token chains that were traditionally pulled across the streets at night to stop those on horseback attempting to leave after committing a crime. Imagine what riches these protected. Have a look at the 7 guarded gates whose cobbled arteries led off to Rome, Naples and other major cities. They were closed to protect the townsfollk from the threat of invaders whether criminal gangs or advancing armies.
6. San Gaetano Church
San Gaetano was built like many churches onto the sites of local tribes and Roman temples. Have a look at its mosaic floor that dates back to 1AD.
7. Christmas Eve – Stewed Eel
If you're visiting Sulmona over Christmas do try the Sulmonese tradition of eating on Christmas Eve stewed eel in a rich tomato sauce as part of their Christmas Eve dinner. It's regarded as a sign of good luck and utterly delicious if you get the chance do try it!
8. Abbazia di Santo Spirito Al Morrone
Just outside the town in Badia, the Abbazia was founded by Pope Celestine V when he was but a simple friar. It sits on the western slopes of the Morrone mountains and has an impressive monumental staircase, frescoes and an old pharmacy to look at. It frequently hosts art exhibitions so check what is on!
9. The Giostra
At the end of July head to Sulmona to watch the newly revived Giostra Cavalleresca of Sulmona. It has taken the city three centuries to perform once more the fabled jousts that took place, but this exciting historical event is unmissable. It combines a re-enactment parade through the city through to a horsemanship competition in Piazza Garibaldi.
10 Coffee Ovid
If you only have a brief stop in Sulmona, make sure you sit at the Grand Cafe for an espresso, in the shade of the statue of Ovid and contemplate history and what we have learnt!